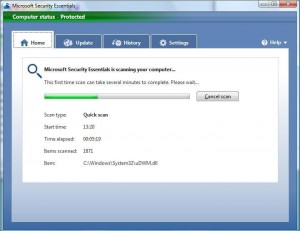 The first advantage of MSE is that it's 100% free, and I would think most likely always will be… as it's in Microsoft's own interest to ensure that it's client's and customers are safe and secure whilst using their operating system!
The second advantage of it is that it's going to be honed to the exact architecture and specific requirements of the OS.
Other things to mention are that it's integrated directly with Windows/Microsoft update so virus definitions are updated automatically.
Basically the whole piece of software integrates beautifully with the Windows OS (Server versions also available!), it doesn't slow the computer down unnecessarily and it doesn't affect usage.
I've always said 'why should you pay for software to protect you from viruses and malware, Microsoft should provide you with this protection' and now they are finally doing that.
For personal, home and small business users this is perfect!
You can find the download link & more information here: http://www.microsoft.com/security_essentials/